2010 Hall of Fame Inductees
Danny Gaither
Daniel Joseph "Danny" Gaither (1938 – 2001)
Inducted in 2010
Born in Alexandria , Indiana , Daniel J. "Danny" Gaither was the smooth tenor voice in the original Bill Gaither Trio. When he joined the group at the age of 18, it was still simply a family affair. His brother, Bill, led the trio, and his younger sister, Mary Ann, was the band's original female singer.
The trio sang their way through college, after which Danny left to join the Golden Keys Quartet. After Bill and Gloria married in the mid-60's, Danny returned to join the couple as the second edition of the Gaither Trio. In 1977, he embarked on a successful solo career, producing a number of albums including Singing to the World, It Is Well With My Soul, Sing a Song of Love and Sweet and High. In the early 1990's, he was forced to stop touring due to problems with his vocal chords. In the late 1990's, he was diagnosed with lymphoma which he battled for five years before succumbing to the disease on April 6, 2001.
Danny won high accolades for his work, including numerous awards. He served as minister of music for his home church, Chesterfield Community Church of God. He was inducted into the Gospel Music Hall of Fame in April of 1999.
Mary Ann Gaither-Addison, Gloria & Bill Gaither accepts for the late Danny Gaither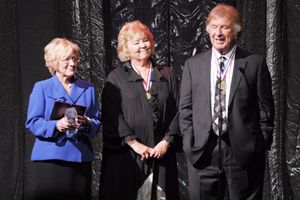 Little Jan Buckner-Goff
Little Jan Buckner-Goff
Inducted in 2010
When you hear the words Southern Gospel Music, you may think Wendy Bagwell and the Sunliters. When you hear the name Wendy Bagwell and the Sunliters, you think Wendy, Jerri, and Little Jan, because they were together without a singing personnel change longer than any other group in the nation.
At the age of 15, Jan began singing her way into the hearts of many by sharing the change that took place in her heart when God stepped in and took control. Little Jan is blessed with an incredible vocal ability that climbs above the clouds, but she is a lady who could never be more down to earth. Although she is a gifted singer, songwriter, and musician, her disarming charm and engaging humility prove her to be anything but a star.
In June of 1996, God called Wendy Bagwell home. Devastated by their loss, Jerri and Little Jan found themselves at an emotional crossroads. Jerri decided she would no longer travel, however, after 38 years with Wendy Bagwell and the Sunliters, Little Jan still had a passion in her heart that would not allow her to stop singing.
Little Jan's talents have been rewarded with several of her songs being nominated for Grammys. She has been inducted into the Georgia Music Hall of Fame and was recognized as the Southern Gospel Music Association's Female Vocalist of the Year on two separate occasions. She had the #1 song in Cashbox, "Walk Around Me Jesus," and Wendy Bagwell and the Sunliters had the best television commercial nationwide for Stanback, with Wall Street Journal front page recognition.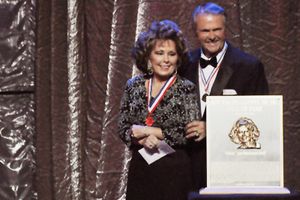 Sam Goodman
Sam Goodman (1931 – 1991)
Inducted in 2010
On March 19, 1931, Sam Goodman was born in Bremen, Alabama, followed soon after by Sam's brothers Rusty and Bobby. When Sam's brother Howard began traveling an an evangelist, all of the siblings were recruited during through late 30's, 40's, and 50's to sing, thus forming the many variations of the early Happy Goodman Family. From the group's earliest days, Sam became known as the group's spokesperson, introducing the songs and the group members on stage, often telling funny stories and including moving recitations such as "The Goodman Family Story," "The Beauty of a Child," and "The Pledge of Allegience" on many albums. Sam sang with the Happy Goodman Family in churches, camp meetings, all night sings, auditoriums, and radio and television around the nation from the 1940's through the 1980's.
In 1982, Sam received Minister's credentials with the Assembly of God and continued to travel, sing, record solo albums, and also preach in churches and on Christian television across the nation until his death in 1991. In 1990, Sam reunited with Howard, Vestal, and Rusty to record their final album, The Reunion, which received a Grammy nomination that year.
Spanning seven decades, the Happy Goodman family received many Grammy nominations, two Grammy awards, and sang at the White House for President Jimmy Carter. In 1974, Sam was awarded the Singing News Fan Award for Favorite Baritone. In 1998, the Happy Goodman Family was inducted into the Gospel Music Hall of Fame, and now, Sam takes his place with Howard, Vestal, and Rusty as a member of the Southern Gospel Music Hall of Fame.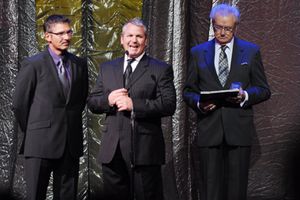 Willie Gathrel "Bill" Hefner
Willie Gathrel "Bill" Hefner (1930 – 2009)
Inducted in 2010
Bill Hefner was born April 11, 1930 in Elora, Tennessee. He grew up in Sardis, Alabama and following his graduation from Sardis High School, attended the University of Alabama.
Following the death of popular tenor Bobby Strickland in 1953, Hefner became tenor for the Crusaders Quartet of Birmingham, Alabama, joining Herschel Wooten, Bervin Kendrick, Buddy Parker, and Dickie Matthews. The remainder of the Crusaders' career was short-lived, and the following year, Hefner, Wooten, and Parker formed the Harvesters Quartet in Charlotte, NC. The quartet enjoyed immense popularity from 1954 until their retirement in 1967, appearing on numerous National and North Carolina TV channels. Hefner became best known for his comedy, first-class emcee work, and his performance of the song "He'll Pilot Me".
Hefner continued promoting gospel music for many years in his home state following the disbandment of the Harvesters. In 1974, he was elected to the 94th United States Congress, where he served a total of 12 terms, from January 3, 1975 through January 3, 1999, before retiring from Congress. Hefner built a reputation as an advocate for military veterans, and the Veterans Affairs Medical Center in Salisbury, North Carolina, was renamed in his honor in 1999.
He was a recipient of the GOGR Living Legend Award in 1998. His final concert appearance was at the 2009 Grand Ole Gospel Reunion. Bill Hefner suffered a massive brain aneurism and passed away on September 2, 2009.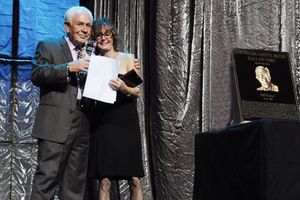 Connie Hopper