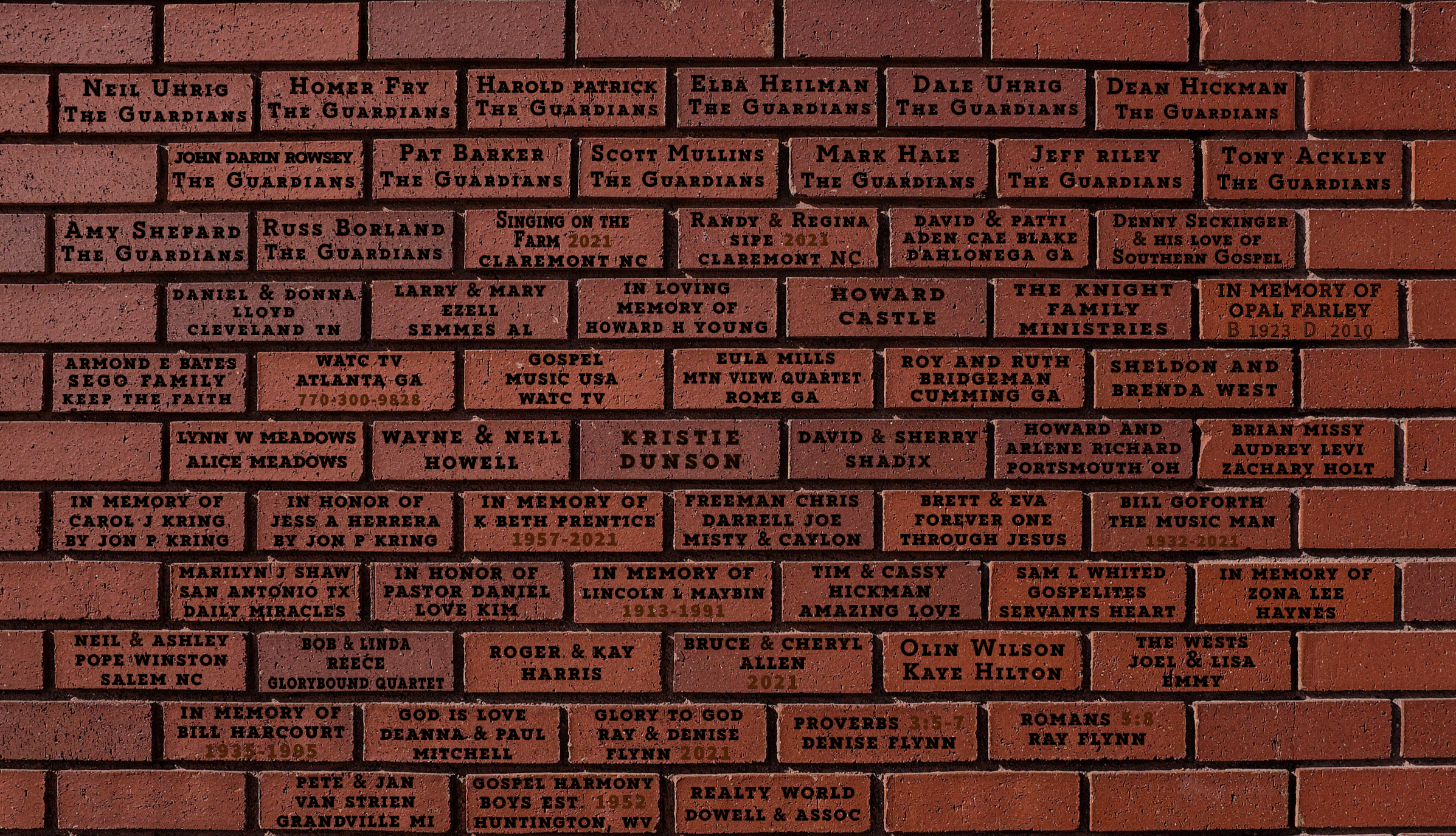 In 1996, the Southern Gospel Music Association accepted an offer from "Etch-A-Stone" of Philadelphia, Mississippi to start a commemorative brick program as a fundraiser for the SGMA Hall of Fame museum. The bricks were sold for $100 and engraved with the name of groups or individuals as a lasting memorial. "Pave Your Way Into Southern Gospel History!" was our promotional slogan, and they were called "Walk of Fame" bricks. That first year, we sold 155 bricks. When the museum opened in 1999, all the bricks purchased were inlaid in the walkway plaza leading into the museum as a permanent tribute to those who helped lay our foundation. 
     Today, we have over 1,500 engraved bricks. Perhaps you purchased one and every time you visited the museum, you would look for your brick. With the closure of the museum this year, many have expressed concern about their bricks. I want to assure you that they all have been carefully taken up and placed into storage. When we open the new museum, they will again be placed in the front plaza to greet our museum visitors. 
     Many friends of Gospel music helped finance the first museum. Now you have the same opportunity to "Pave Your Way Into Southern Gospel History" by helping fund the next museum. 
     Thank you for your continued support of the Southern Gospel Music Association!
Travis Bridgeman, Executive Board Member and Secretary
After all these years, the cost is still $100 
Purchase Your "Walk of Fame" Brick Today @  SGMA.ORG 
Place your order online by visiting our "Donate" page or by send an email to administrator@sgma.org with your information to engrave on the brick. 
(Brick format = 3 Lines, 14 Spaces per line)
The Bricks Move to Storage!